Our Moms taught us to share…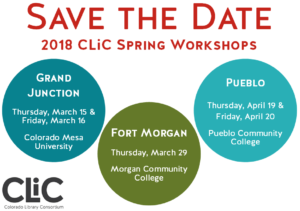 …and we would like you to share YOUR knowledge and enthusiasm with us at the 2018 CLiC Spring Workshops.
Yes, that is right, it is time to submit your Presentation Proposals for the 2018 Spring Workshops.  Next year will be here before you know it! Deadline to submit proposals is October 22.
The dates and locations for 2018 are:
Grand Junction – March 15 & 16
Fort Morgan – March 29
Pueblo – April 19 & 20
All the information you need is linked below.
Presenter Info Packet (referenced in the form): http://bit.ly/CLiCPresenterInfoPacket2018
Call for Presenters Submission Form: http://bit.ly/CLiCPresenter2018