BookFlix
Scholastic BookFlix is an online literacy resource that pairs classic video storybooks from Weston Woods with related nonfiction eBooks from Scholastic to build a love of reading and learning.
Britannica School
Britannica School is an up-to-date, and age-appropriate information resource for Elementary, Middle, and High School. Students can conduct research using thousands of searchable encyclopedia and journal articles, images, videos, audio clips, curated primary sources with curriculum relevance, detailed maps, editor-recommended Web sites, learning games, a world atlas, and a wealth of how-to research tools.
ComicsPlus
Offers readers unlimited access to thousands of digital comics, graphic novels, and manga from popular publishers like ABDO, Andrews McMeel, BOOM! Studios, Capstone, Dark Horse, Europe Comics, Fantagraphics, Humanoids, Image Comics, Kodansha, Lerner, Manga Classics, Papercutz, Tokyopop, TOON Books, UDON Entertainment, Yen Press, and dozens more.
CREDO Is Now Source Reference. Please see Infobase.
Through its user-friendly research platform and instructional materials, Credo provides schools with the tools to improve students' college readiness and information literacy skills. Credo's innovative technology, authoritative reference content, and support make it easier for librarians to reach students and bridge gaps between the library and the classroom.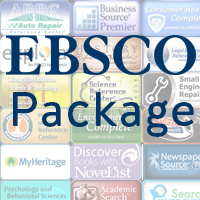 EBSCO Package
The state EBSCO Package is a diverse 32 database package that contains essentials for all library types. Offers incredible value for your library/school dollar. This isn't just a subscription for a host of databases and educational content, it's a full-support service.
Flipster
Flipster Digital magazines from EBSCO. Current and past editions are accessible. No platform fee. No minimum title purchase.
Scholastic GO!
(Grades 3 – Adult) Comprehensive source of nonfiction content for research.  Providing credible, accurate, reliable content on almost every core-curricula subject, offers endless resources for research in a multitude of media. Explore nonfiction texts, world newspapers, videos and more with this easy-to-navigate digital resource designed to strengthen content knowledge, vocabulary, and core proficiency skills..
Lightbox Learning
Lightbox Learning are web-based products containing digital titles packed with unique, fully integrated multimedia features, including embedded
videos, slideshows, curated weblinks and high-quality audio narration helps students improve literacy. Ready-to-use, curriculum based titles. Subject areas include social studies, science, language arts, math, and sports.
Infobase
Infobase provides online databases, eBook collections, and streaming video collections.  Imprints include Facts on File, Ferguson's, Bloom's, Learn360, Video Streaming, and Films on Demand. List of product options.
Learning Cloud
Educators Can Earn Professional Development Credit, Get Valuable Training, Utilize Their Own Content, and Assess Learning. The Infobase Learning Cloud delivers professional development and training solutions designed to meet the unique needs of schools and districts—including college and career readiness, student engagement, and changing instructional practices.
Learning Express
Learning Express helps students and adult learners improve the skills required for academic and career success. Comprehensive selection of educational resources—including more than 1,000 tutorials, practice exams, and eBooks—for basic skills mastery, academic success, job preparation, and career advancement.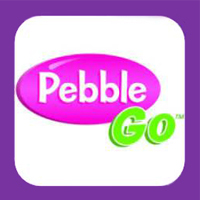 PebbleGo
An online research database, specifically designed for the K-2 learner. Every PebbleGo article includes built-in natural voice audio, text-highlighting, simple navigation, and teacher resources to help emergent readers build literacy, research and computer skills. PebbleGo has five modules available:  Animals; Science; Biographies; Social Studies; and Health.  There is also a four module Spanish bundle available: Animales; Ciencia; Biografías; Estudios Sociales; and Salud (with Spanish text and natural voice audio).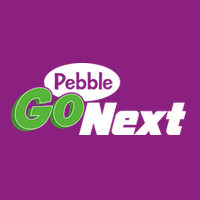 PebbleGo Next
PebbleGo Next is designed for grades 3-5. It continues the PebbleGo experience and features, but with more robust information-rich articles with timelines, videos, critical thinking questions and more. PebbleGo Next has four modules available: Science; States & American Indian History; Social Studies; and Biographies
Report Builder
Make research fun and easy with Gareth Steven's Report Builder!  Report Builder's interactive question-and-answer approach is designed to help emerging researchers (grades K-4) find the information they need to write reports. The curriculum-based topics are concise and supported by gorgeous visuals.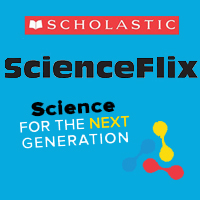 ScienceFlix
(grades 4-10 with STEM Middle/HS focus) – Curriculum-driven leveled content is integrated with interactive features and intuitive navigation in this highly engaging mobile-ready science resource. With its emphasis on the latest STEM thinking and the Next Generation Science Standards, ScienceFlix provides students with a better understanding of science concepts and ideas through hands-on projects, videos, multiple text types, and so much more.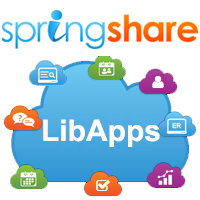 Springshare
Springshare has a number of products such as, LibGuides, LibCal, and LibWizard to name a few. Springshare is helping librarians help their students.
TrueFlix
(grades 3-5) Helps students master Social Studies and Science content knowledge through literacy! Offering dozens of units to supplement social studies and science core curricula learning. Ebooks are enhanced with a deep and diverse reservoir of related content in a variety of text types and media—including primary sources, fiction, videos, audio clips, images, and related websites.
TumbleBooks
TumbleBooks has 4 different products to choose from containing curated databases for Elementary, Middle and High school students. Includes unique animated, talking picture books, read-along chapter books, national geographic videos, non-fiction books, Graphic Novels, classic literature, playlists, as well as books in Spanish and French.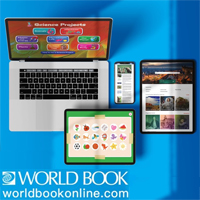 WorldBook
World Book's eLearning Solution provides well-rounded resources for teachers and students.
Wizard An adaptive learning tool with over 400 drills and 40+ courses.
World Book Online Digital databases designed for every stage of a student's educational journey with games, timelines, science projects, activities, articles, etc. to support project-based learning online.
eBooks Access to over 400 World Book titles, 2000 World Classic titles.
Homework Help Students can get additional after hour support with 1:1 tutoring in all core subjects.